What are the ASO techniques?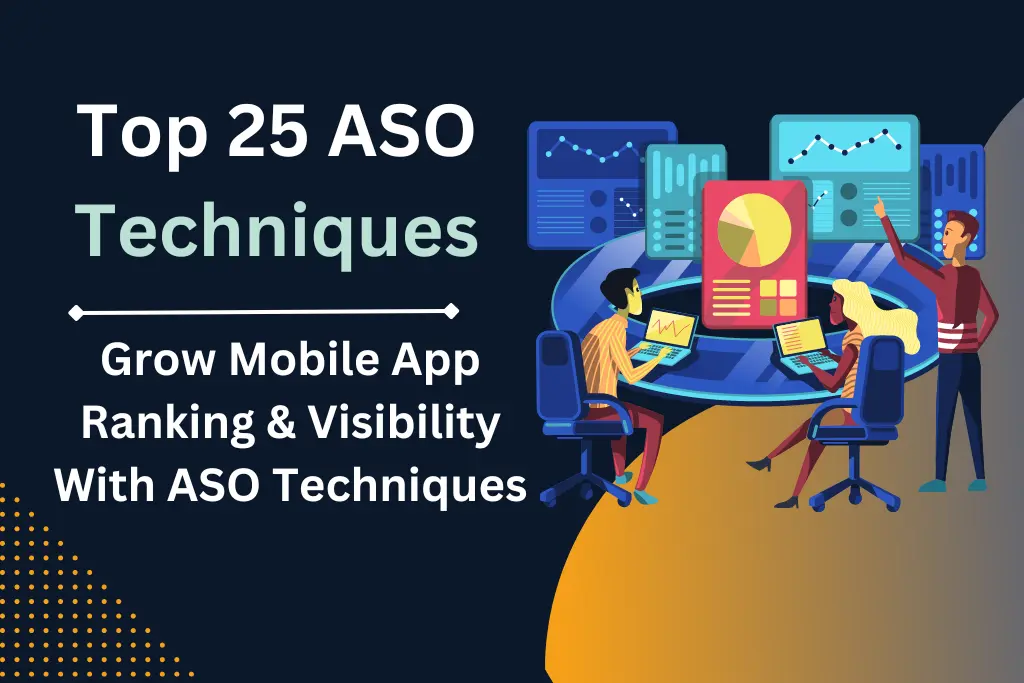 The Ultimate Guide to ASO Techniques for App Store Optimization
Introduction:
There are almost 3.55 million apps on the Google Play Store and 1.62 million apps on the Apple App Store. Due to the popularity of the apps and their usage in our daily life, there number of apps in stores is increasing day by day. All new app developers and publishers face the issue to get their apps in the search results when anybody searches for that specific app. To get a presence in the search results, there introduces the strategy of App Store Optimization (ASO) to get visibility, ranking, and installs. In this competitive market when to beat the other competitors in search results pages, then ASO techniques are the solution to get the organic installs for the app and top ranking in Play Store or App Store. In this article, there will explain the all basic ASO techniques to get success in the highly competitive market.
1. Understanding the what is the importance of ASO Optimization?
Before jumping to other ASO techniques, you will need to understand what is the ASO and its importance for any app or game. App Store Optimization is basically the optimization process for any app or game on Play Store or App Store to optimize the app metadata to get visibility, ranking, traffic, and organic installs. In this process there optimized the main listing of the app including the app title, short description, and long description. After the ASO, the app starts to rank in the search results which will drive the installs, leads, and conversions.
Without ASO optimization for the apps, the app developer can not get discoverability in the search results. On the other hand, by applying the ASO techniques, it will be easy to enhance the app visibility, ranking, and number of installs and in-app actions.
Mobile Apps: The Modern Business Frontier
The Evolution of App Store Optimization
The Significance of ASO for App Success
2. App Title and Keywords: A Winning Combination
Your app's title and choice of keywords play a vital role in attracting potential users. Explore the best practices for crafting a compelling app title and optimizing keywords to increase your app's discoverability.
Creating a Captivating App Title
The Art of Keyword Research for ASO
Optimizing Keywords in the App Description
3. Crafting an Appealing App Description
Your app description is an opportunity to showcase its unique features and value proposition. Learn how to write a persuasive and engaging app description that entices users to hit the "Download" button.
The Power of Persuasive App Descriptions
Structuring Your App Description for Readability
Incorporating Keywords and LSI Terms
4. Eye-Catching App Icons and Screenshots
First impressions matter! Discover how to design eye-catching app icons and screenshots that convey your app's essence, attract attention, and convert visitors into loyal users.
Designing an Icon that Stands Out in a Crowd
Creating Compelling Screenshots for Conversion
A/B Testing for Optimal Performance
5. Leveraging App Preview Videos
App preview videos offer a dynamic way to showcase your app's features and functionalities. Uncover the secrets of creating compelling app preview videos that leave a lasting impression.
The Impact of App Preview Videos on Conversions
Best Practices for Crafting Engaging Videos
Promoting Your App Preview Effectively
6. App Localization: Breaking Global Barriers
App localization is one of the best sources when we want to target the international market. It will increase the installs ratio up to 30% if you will properly use the app localization techniques according to regions and languages
The Need for App Localization in a Global Market
Strategies for Effective App Localization
Measuring Success and Gaining Insights
7. Ratings, Reviews, and User
FeedbackPositive ratings and reviews are essential for building trust and credibility among potential users. Learn how to manage and encourage reviews, address negative feedback, and enhance user satisfaction.
Rating, review, and user feedback are also essential for building trust among the targeted users. It will need to know about how to manage and encourage reviews.
The Role of Ratings and Reviews in ASO
Implementing Strategies for Generating Positive Reviews
Responding to Negative Feedback Gracefully
8. ASO and User Acquisition Strategies
More relevant users are more important for the app to use for the long term and there will need to know about the complete user acquisition strategies to attract the users and increase the app installs.
Understanding User Acquisition Channels and Methods
The Art of App Promotion and User Acquisition
Leveraging Social Media for ASO Success
9. App Updates and Seasonal ASO
App updations have become very necessary with time to retain users and introduce them to new app features. Discover about what will be the impacts of the updates and how the seasonal ASO will impact the app conversions,
The Importance of Regular App Updates
Strategies for Seasonal ASO Campaigns
Analyzing the Impact of Updates on User Engagement
10. The Power of App Influencers
Influencer marketing is a powerful tool for boosting app visibility and credibility. Learn how to collaborate with influencers and leverage their reach to drive more downloads.
With time the power of influencers has become more popular for app promotion because it boosts app installs and more relevant users. Discover how influencer marketing can be beneficial for the app's growth.
Identifying the Right App Influencers for Your Niche
Negotiating Partnerships and Collaboration Terms
Measuring Influencer Marketing Success
11. App Performance and User Retention
App performance and user retention are crucial metrics that directly impact ASO. Explore ways to optimize your app's performance for enhanced user satisfaction and retention.
The Connection Between App Performance and ASO
Monitoring and Analyzing User Retention Metrics
Enhancing User Experience through Performance Improvements
12. Competitor Analysis for ASO Domination
Understanding your competitors' strategies can provide valuable insights for your ASO efforts. Learn how to conduct a thorough competitor analysis and use it to your advantage.
The Importance of Competitor Analysis in ASO
Tools and Techniques for Analyzing Competitor Performance
Implementing Changes Based on Competitive Insights
13. A/B Testing for ASO Success
A/B testing allows you to optimize your app's elements for maximum impact. Discover how to conduct effective A/B tests to refine your ASO strategy continually.
The Basics of A/B Testing for ASO
Testing App Icons, Screenshots, and Descriptions
Interpreting Results and Implementing Changes
14. Embracing ASO Analytics and Tools
Data-driven decisions are the cornerstone of successful ASO campaigns. Explore essential ASO analytics and tools to measure, track, and enhance your app's performance.
The Importance of Data-Driven ASO Decisions
Key ASO Metrics to Monitor Regularly
Recommended ASO Tools for Every App Developer
15. App Indexing and Deep Linking
App indexing and deep linking enable seamless user experiences and can improve your app's search ranking. Understand how to implement these techniques effectively.
Exploring App Indexing and Its Impact on ASO
Harnessing Deep Linking for User Engagement
Best Practices for App Indexing Implementation
16. ASO for Different App Categories
Different app categories require unique ASO strategies. Learn how to tailor your ASO efforts based on your app's category for the best results.
Understanding the Diverse App Categories
Customizing ASO Techniques for Each Category
Case Studies of Successful ASO in Different Categories
17. The Role of Social Proof in ASO
Social proof plays a significant role in convincing users to download your app. Discover the power of testimonials, case studies, and user-generated content in ASO.
Leveraging Social Proof to Enhance App Credibility
Encouraging User-Generated Content for ASO
Strategies for Showcasing Positive Testimonials
18. ASO for Games: Unleashing the Potential
Game apps require specific ASO tactics to thrive in the competitive gaming market. Explore techniques to optimize game apps and drive downloads.
The Unique Challenges of ASO in the Gaming Industry
Game-Specific ASO Techniques for Success
Partnering with Gaming Influencers for Maximum Impact
19. App Security and ASO
User security is paramount in today's digital landscape. Learn how to ensure your app's security and privacy measures positively impact your ASO strategy.
The Importance of App Security for User Trust
Implementing Robust Security Measures
Communicating Security Measures to Users
20. ASO for Paid Apps vs. Free Apps
ASO strategies differ significantly between paid and free apps. Understand the nuances of ASO for each app type and optimize your efforts accordingly.
Differentiating ASO Techniques for Paid and Free Apps
Maximizing Revenue Generation for Paid Apps
Monetization Strategies for Free Apps
21. ASO Pitfalls to Avoid
Avoid common ASO mistakes that can hinder your app's success. Identify potential pitfalls and learn how to navigate them effectively.
Common ASO Mistakes and Their Impact
Ensuring App Compliance with App Store Policies
Addressing Negative ASO Outcomes
22. Emerging ASO Trends and Future Insights
ASO is an ever-evolving landscape. Stay ahead of the curve by exploring emerging ASO trends and preparing for the future.
The Rise of Voice Search in App Stores
ASO Implications of Wearable Technology
Preparing for AI and Algorithm Changes
23. Incorporating ASO into Your App Launch Strategy
Integrating ASO into your app launch strategy can set the stage for long-term success. Learn how to execute a successful ASO-driven app launch.
ASO's Role in App Launch Success
Optimizing Pre-Launch App Teasers and Previews
Leveraging ASO Post-Launch for Continuous Growth
24. ASO for Small Businesses and Startups
ASO is not just for big corporations. Discover how small businesses and startups can benefit from ASO and compete in the app marketplace.
Overcoming Budget Constraints with Effective ASO
ASO Techniques for Localized and Niche Apps
Building a Community of Loyal App Users
25. The Future of ASO: Challenges and Opportunities
As technology advances, so do the challenges and opportunities in ASO. Explore the future of ASO and what it means for app developers and marketers.
ASO's Role in a Saturated App Market
The Potential of Personalization and AI in ASO
Embracing Continuous Learning for ASO Mastery
Do you Want
More App Downloads?
Boost the Mobile App Growth with the Ultimate Mobile App Marketing Experts
Do you Want
More App Downloads?
Boost the Mobile App Growth with the Ultimate Mobile App Marketing Experts