How to Market an App Successfully?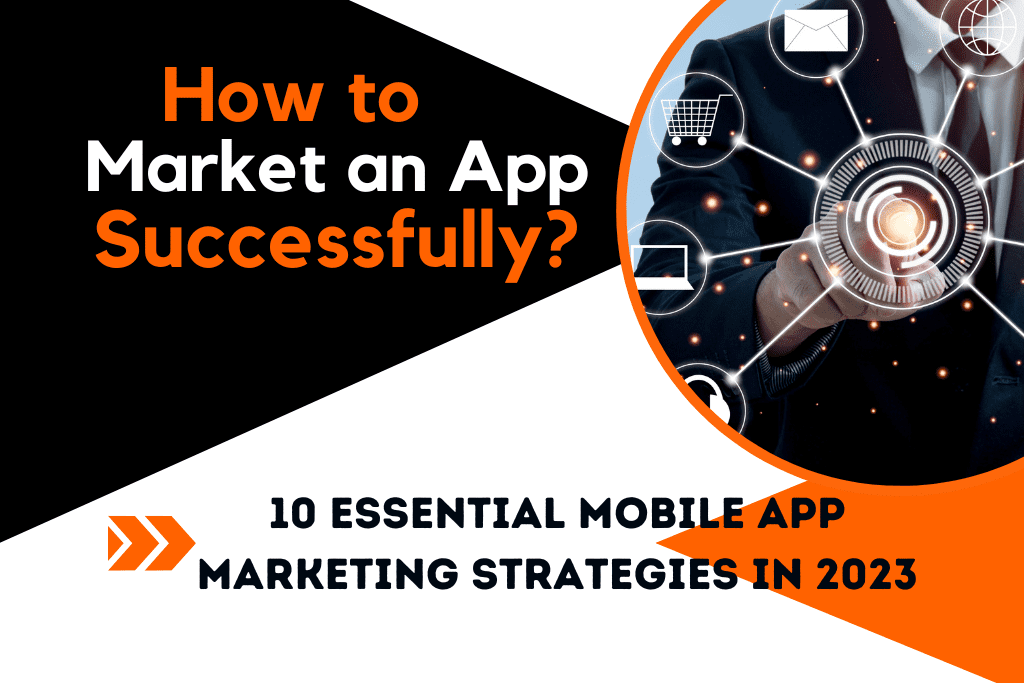 They can use to reach you marketing an app successfully is required a well-planned and executed marketing strategy to reach a wide audience to get the app downloads.
Are you looking for app marketing strategies and worried about how to reach more potential customers? Don't worry, in this article, you will get the answer to your all queries about successful app marketing strategies and how r most ambitious targets.
Market Analysis and Research
Before immersing yourself in app marketing strategies, it is essential to fully comprehend the concept of market research. Market research plays a pivotal role in guaranteeing the triumph of your app marketing endeavors. It enables you to accurately identify your target audience, acquire insights into their needs and preferences, and formulate impactful strategies that effectively engage with them.
Here are some steps to follow when conducting market research for an app:
1): What are the marketing research objectives
2): Analyze and identify the target audience
3): What competitors are doing to target the same audience
By following these steps, you will be able to get valuable insights about your target audience & competitors and you can use them for successful marketing campaigns. This will be very helpful in some domains including identifying customer needs, market opportunities, market threats, and product development.
How to Market an App Successfully in 2023 – 10 Essential App Marketing Strategies
1): App Store Optimization
App store optimization is one of the most vital parts to get organic installs through search results. ASO process uses to increase the app's visibility and ranking in the Google Play Store and the Apple App Store with the goal of increasing the number of downloads and user engagement. Almost 55% to 65% of apps search directly from the app store, our goal will be for the app to rank on maximum keywords in the search results, as it will rank higher and it will be more visible to the target audience. Ultimately, the increased visibility in app store search results should lead to more installs, which will help get your app noticed by editors.
Here are the top 10 App Store Optimization techniques that you will need to follow to optimize the metadata for the app
1): Optimize the app title
2): Optimize the short description
3): Optimize the subtitle
4): Optimize the Long description
5): Optimize the connecting keywords list (100 characters list)
6): Localization of the app
7): Optimize custom store listing
8): User reviews and rating
9): Analyze the number of downloads & set KPIs
10): Prepare the high-quality app icons, screenshots, preview video, and feature image
Overall, ASO is an important part of app marketing to increase visibility, ranking, and overall user engagement to download the app. By following the best practices of ASO and monitoring the app's KPIs performance on a daily basis, the marketer can take full advantage of these organic results.
2): Paid App Advertising / Paid User Acquisition
Paid app advertising involves using paid channels to bring the app installs. These paid campaigns can be very effective to increase app installs and reach a wider audience. Here to set up the campaign for both objectives either we want the app installs or in-app action for our goal and target the potential audience. It is necessary to carefully track the performance of the campaign to ensure that is cost-effective and drives high-quality users.
There are several websites that offer Paid App Advertising including Google ads, Facebook Ads, Tiktok Ads, Apple Search Ads, Twitter Ads, Linkedin Ads, etc. If you are targeting the audience through social ads then you keep in mind that audiences have shorter attention spans, so the ads should convey the proper message about the app functionality or product in a few seconds.
3): Creating the Online Presence
Creating an online presence involves the best app marketing strategies to reach the target audience including to setup a blog page, website, and social media accounts on Instagram, Facebook, Linkedin, Tiktok, Youtube, and Pinterest. Here are some tips that will need to follow when creating an online presence.
1): Choosing the right platforms: The initial stage in establishing an online presence involves choosing a suitable platform based on your target audience and the nature of the services you are promoting. The commonly favored platforms include blogs, landing pages, websites, social media applications, online directories, and listings.
2): Create a website / Landing Page: Having a website or landing page can be a central hub for your online presence and the place where the user can learn more about your app, product, and services.
3): Set up social media accounts: Social media accounts like Facebook, Instagram, Linkedin, Youtube, Tiktok, and Pinterest can be a powerful source to promote the mobile app. To reach the target audience start daily posting, sharing content, and engaging with users.
4): Online directories and listings: Online directories and listings can be a useful way to reach a wider audience and improve the app's visibility and ranking. Adding your business to the most relevant directories such as local business directories and app store listings.
By following these steps and regularly updating and engaging with your online presence, you can effectively promote your business or app and reach a wider audience.
4): Social Media Marketing:
Harnessing the potential of social media marketing can be a potent approach to engage with your intended audience and enhance app installations. Here are a few crucial steps to consider when implementing social media marketing for your app.
1): Identify your target audience: It is the main step to identify the targeted audience for the app promotion including who is looking for this specific app or product, what are their needs and requirements, and how this app can helpful for them. By understanding your targeted audience you can drive more installs and accelerate your social media marketing efforts.
2): Create a Content Strategy: Prepare the content strategy that includes the type of content that you will post and the frequency of your posts. Make the content more engaging and interesting through text, videos, and images to showcase the app's features & functionalities.
3): Engage with your audience: Social media is a 2-way communication channel, so it is important to actively engage with your audience. Respond to every comment and message, and run different polls to engage the audience with the app.
4): Choose the right platform: Choosing the right platform also matter for the app promotion to hit the targeted audiences. The most popular social media platforms for app promotion include Facebook, Tiktok, Linkedin, Instagram, and Twitter.
5): Hire Influencer / Influencer Marketing
Influencer marketing can be the best way to promote your brand and app visibility among potential customers. This influencer marketing has become more popular in recent years due to more trust and millions of fans following these influencers. Here are some details about like how influencer marketing can be helpful for app marketing and promotion.
1): Reaching a wider audience: Influencers have already a large number of engaging followers, and you can directly reach this audience to increase the app's visibility, brand awareness, and downloads.
2): Establishing credibility and trust: Influencers have already established credibility and trust with their followers, and their recommendations have their own importance. By partnering with these influencers, your app can benefit from this credibility and trust.
3): Providing valuable content: Influencer already creates valuable content and their followers like this content. This valuable content will be very helpful for the app to reach a wider audience and encourage them to download the app. This Influencer marketing has a high conversion rate as compared to traditional marketing.
By selecting the right influencer according to the app niche and audience requirements, you can drive more app installs through these influencers and can build the most trusted brand for the wider audience.
6): Set Key Performance Indicators (KPIs)
KPIs gauge app and marketing campaign success, providing insights for improvement. Key indicators to consider: DAUs, MAUs, retention rate, daily sessions per user, session duration, LTV, ROI, CPI, CPA, CTR, and CPM.
By closely monitoring these KPIs and setting specific targets for each, you can accurately evaluate the efficacy of your app marketing efforts and make informed decisions based on data to improve your overall results.
7): Run Apple Search Ads
It is another Paid way to increase the download for the app in the app store to run the Apple Search Ads Campaign. This campaign functions similarly to Google ads, where you will be paid based on cost per click (CPC). Here are steps to guide you in setting up the campaign on the app store:
1): Set up an app store advertising account: To start advertising your app, you will need to set up an ads account on Apple Search Ads with additional information by providing the billing information and campaign budget. You can choose anyone basic or advanced apple search ads account according to the requirements.
2): Choose the right campaign setting: Apple search ads offers a different option for the ads placement including the today tab, search tab, search results, and product page. Select the right option where the chances the user will show more engagement for this with additional requirements to select the country where you want to promote the app, daily budget, campaign goal, and right audience selection on the basis of devices, customer type, and demographics.
3): Setup the relevant keywords for the campaign: Relevant keywords matter so much for the campaign because these are the relevant terms and words that the customer use when searching for an app and it allows users to quickly find your app and move forwards for the app installs. So, do the proper keyword searching for the ads campaign and then select the keyword on the base of the match type and popularity.
By following these steps, you can successfully run app store ads to promote your app and drive more downloads.
8): Backlinking (Off-Page ASO)
Backlinking is the process of creating links from other websites to your app on the Google Play Store or Apple App Store. This backlinking can be helpful to improve the visibility, exposure, reach, traffic, and ranking of the app and can drive more downloads. Here are several ways to create relevant backlinks for the app.
1): Reach out to the relevant websites & blogs: Search for those websites and blogs that cover topics related to your app and reach out to them if they are interested in linking to your app.
2): Create backlinks on the app submission sites: These app submission sites are totally free and will help you easily bring more exposure and referral traffic to the app.
3): Build links with infographics: Infographics are highly effective for the app backlinks because they are visually appealing, highly searchable, and easy to adjust. Creating backlinks on infographics there are more chances to drive the app installs for the app and its direct impact will be on the app ranking and visibility.
4): Create guest posts: Look for opportunities and find those websites and blogs which offer guest posting and are specifically related to this app niche.
5): Create the content on your own website: You will need to have any blog or website related to this app and write blog posts, articles, or other content on your own website that mention the link to your app.
9): Create High-Quality Icons and Screenshots:
Creating high-quality icons and screenshots is an important part of the promotion of the app and engaging users to download the app. An app icon is the first element that users notice when flipping through their smartphone screen. Here are some tips that need to keep in mind while creating the graphics for the app
1): Make simple icons: The app icon should be simple, easy to recognize, and with minimal details. Try to avoid too many colors, complex shapes, and unnecessary elements.
2): Use High-quality Images: Use high-quality images for the app icon and screenshots. Low-quality images can make your app look unprofessional and may discourage users from downloading it.
3): Use screenshots to showcase your app's features: Prepare the screenshot in such a way as to show up the app's features very clearly and include callouts or captions to explain what users can do with your app.
4): Follow app store guidelines: Google Play Store and the App Store have announced some guidelines and policies related to icons and screenshots that need to follow.
By following these tips, you can create an eye-catching icon and screenshots that will be helpful for the app promotion and encourage users to download it.
10): Enable Push Notification
Employing push notifications is one of the best app marketing strategies since they have the highest open rate of any medium. A study by E-goi reveal that 90% of push notification are opened as compared to only 68.9% of email are opened.
These push notifications are very helpful to inform users about new updates, products, events, and posts that can be helpful for user engagement and retention.
Do you Want
More App Downloads?
Boost the Mobile App Growth with the Ultimate Mobile App Marketing Experts
Do you Want
More App Downloads?
Boost the Mobile App Growth with the Ultimate Mobile App Marketing Experts